A masterpiece in design
Inspired by nature, a Beachcomber Hot Tub boasts a timeless and classic design with brilliant illumination reflecting the night sky, soothing waterfall features simulating the cascading flow of water, and the solid integrity of the eco-friendly and sturdy wood-like hot tub skirting.
Whether you are placing your hot tub in your garden, or overlooking your ocean view, let a Beachcomber Hot Tub complement the aesthetics of your home or backyard with your very own 'Private Outdoor Domain'. Discover the luxurious beauty of a Beachcomber Hot Tub today.
AESTHETIC DESIGNS
beauty is in the details

EnviroSkirt™ Cabinetry Skirting
Beachcomber Hot Tubs are built to withstand the test of time. Our high-quality internal components are wrapped in a durable, UV protected exterior cabinetry material called EnviroSkirt™. Made with a patented plastic composite material that is fully recyclable, weather-resistant, fade-resistant, and crack-resistant - the hand-fitted EnviroSkirt™ has a timeless, furniture-grade cabinet finish, and is available in Ebony and Walnut.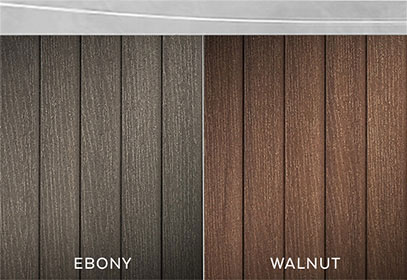 Vertical Cabinetry SKIRTING
Our most popular cabinetry skirting, the Vertical Cabinetry can be found in all Beachcomber Hot Tubs models. This simple, and timeless look will complement any architectural, decking or landscape design.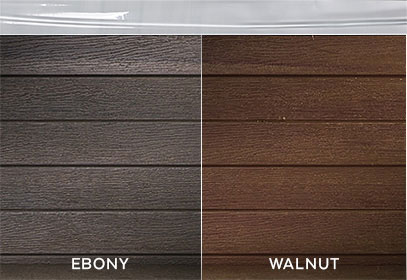 SIGNATURE Horizontal Cabinetry SKIRTING
Elevate the look of your hot tub exterior to a whole new level with Horizontal Cabinetry. Exclusive to our premium 700 Series Beachcomber Hot Tubs, the sleek and modern horizontal cabinetry will enhance the aesthetics of your home and backyard.
Star Trail™ Corner Lighting
Star light, star bright - the Star Trail™ is inspired by the star-lit night sky. Exterior ambient mood lighting is cast along the four corners of the horizontal cabinetry skirting, turning your backyard into a romantic oasis. These long lasting, unobtrusive digital LED lights add ambiance and an extra layer of safety to your evening soak.
Everlite™ Lighting
Stunning, iridescent, underwater mood lighting surround you as you soak. Choose from a rainbow of colours and hues to illuminate your hot tub experience with the Everlite™ LED Lit Controls,and set the mood for a memorable, rejuvenating soaking experience.
Crescent Moon™ Lighting
With ambience and safety in mind, the Crescent Moon™ Lighting with advanced LED-technology, is subtlely integrated within the sleek curved handgrip design. Exclusive to the 700 Series hot tubs, the Crescent Moon™ Lighting lets you choose the colours and hues that fit your mood, and casts a beautiful, stimulating glow on the water.
Eclipse™ Lighting
The unique Eclipse™ Lightings are strategically placed on either side of the hand grips, to illuminate the water and the surrounding hot tub environment.
GUIDING LITE
The Guiding Lite is an energy-saving sensor-triggered feature on the Hybrid4® SafeAxiss™ Steps to illuminate the areas around the hot tub for extra safety and brilliant nighttime ambience.
Flow to the sound of Nature
Roman Arch™ Waterfall
The Roman Arch™ Waterfall adds elegance and serenity to your hot tub. The sounds of softly running water are natural, bringing us back to the essential elements of life. To set the stage for an idyllic evening soak, this feature has a programmable LED lighting package that distribute a kaleidoscope of colour.
Blade Waterfall
Sleek and modern, the Blade Waterfall is a continuous blade of water that mimics the sound of natural flowing water, and is positioned to flow down to your shoulders to provide a gentle, relaxing sensation.
Acuralux™ Acrylic Finish
The beautiful, smooth, interior finished surfaces of our Beachcomber hot tubs are made from Acuralux™, a composite plastic material, made to withstand decades of wear and tear, while providing a smooth finish that contours to every curve of your body at every angle. Acrualux™ is available in the following finishes. Find the ideal hot tub finish to match your design style.
Visit a Beachcomber Specialist to discover more.