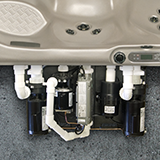 CAB FORWARD ENGINEERED PAK SYSTEM
Patented design and technology exterior of the hot tub in its cab forward construction, provides easy access for maintenance and maximum energy savings. The hydrodynamics in design reduces horsepower without sacrificing performance, optimizing the energy efficiency of the Eco4WALL™ insulation.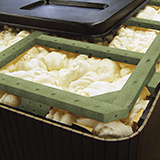 ECO4WALL™ 100% CAVITY FILLED INSULATION UPGRADE
Our 100% Cavity Filled Foam Insulation system seals the entire hot tub cavity for unparalleled energy efficiency.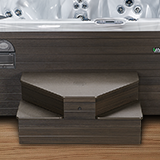 ALL-WEATHER SAFEAXISS™ STEPS
Made with non-slip surfacing, the SAFEAXISS™ Steps allow the user to access the hot tub from any angle with ease, while multiple tiers provide easy entry and exit. The steps are also insulated, and serve as a protective cover for the Energy Saver Management System.
HUSH PUMP SYSTEM™
Beachcomber's Hush Pump System™, quietly working in conjunction with our Energy Saver Management System and MICROFILTER™, effortlessly heats and cleans your hot tub water keeping it fresh and clear.